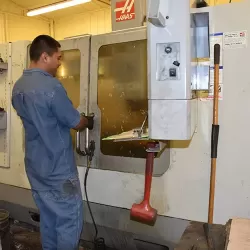 Lee Metal Fabrication provides the best in CNC lathe machining and turning services. Equipped with highly skilled CNC programmers and machinists, as well as horizontal and vertical turning centers, we consistently exceed our clients' precision, accuracy, and quality standards.
If you have complex components with tight tolerance, high precision demands, Lee Metal Fabrication has the equipment, knowledge, and experience to meet your exact specifications.  Quick-turn CNC machining works best for prototyping, form and fit testing, jigs and fixtures, and functional components for end-use applications. 
CNC Lathe Turning
Lee Metal Fabrication has two Haas ST-30 CNC lathes to handle all of your turning needs. 
The following are offered on both our CNC Lathe machines.
3" Through spindle bar capacity
21" x 26" maximum capacity
10" chucks
30 HP spindle
Automatic tool setting probe
One of our lathes has bar feeding and live tooling capabilities. CNC turning with live tooling combines both lathe and mill capabilities to machine parts with cylindrical features from metal rod stock.  Our CNC turning process produces custom prototypes and end-use production parts in as fast as 1 day. We use a CNC lathe with live tooling so features like axial and radial holes, flats, grooves, and slots can be machined.
How Does CNC Turning Work?
During the CNC turning process, a metal rod is rotated while a cutting tool is held against the stock to remove material and create final parts. The lathe rapidly machines your parts in a subtractive turning process with additional live tooling. Outside diameter (OD) and inside diameter (ID) threading is also available.
Turned parts can then be left as-machined, with visible tool marks, or bead blasted. When the run is complete, parts are inspected, boxed and shipped shortly thereafter.  We stock a range of metal materials that are suitable for various part applications and industries. Choose from aluminum, brass, low carbon steel, stainless steel, steel alloy, and titanium for turned parts.
CNC Vertical Machining
Lee Metal Fabrication has 2 Haas VF-3 Vertical Machining Center mills to handle all of your vertical machining needs. 
The following are offered on both machines.
20" x 40" x 25" (xyz) work area
Wireless intuitive probing system
20 station tool changer
20 HP motor
2 speed gearbox
Through spindle coolant
Because Lee Metal Fabrication has the most experienced machinists, uses cutting edge CNC equipment, and maintains strict adherence to the highest quality standards, we can ensure that our CNC milling and turning services offers a higher level of service and precision.
Lee Metal Fabrication is proud to offer Precision CNC Vertical Machining services across a spectrum of industries. Our multi-axis machines with pallet fixturing and CNC control can precisely carry out processes such as drilling, milling, boring, contouring, and counter-boring, while maintaining very tight tolerances. Lee Metal Fabrication can machine a wide range of materials, including aluminum, brass, stainless steel, copper, bronze, and plastic.