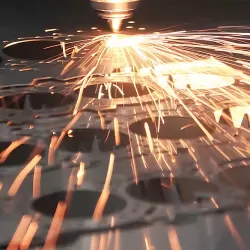 Our flat laser cutting systems at Lee Metal Fabrication allow for fully automated, lights-out production of all sorts of material thicknesses and types including aluminum, steel, high-hardness steel and many other metals and alloys. We combine the use of our high-end equipment with decades of laser cutting expertise, design and engineering.
When your metal fabrication project requires small or large quantities of accurately finished parts, flat sheet laser cutting from Lee Metal Fabrication is the answer. Used to cut sheet metal accurately, flat sheet laser cutting employs a focused laser beam that meets and then melts sheet metal, allowing for super clean edge quality and better control over the cut material.
The laser can handle a variety of cutting tasks combining remarkable speed and accuracy to provide you with a high-quality processed part made of steel, stainless, aluminum, galvanized, aluminized or other coated materials.
Our cutting system is well suited for processing thin to thick sheet metal. As the workhorse of metal fabrication, next-generation flat lasers produce excellent edge quality and allow for better process control. Because flat laser cutting accommodates tight tolerances in a variety of sheet metals we can produce optimal cutting plans.
Precise Part Fabrication
Using state-of-the-art fiber lasers, we are able to offer the most versatile and accurate sheet metal cutting technology available on the market. In fact, our fiber lasers are the most accurate in the entire world, providing cutting tolerances of 0.004 inches (0.102 millimeters) in a wide variety of materials, cutting through materials up to .625 inches (15.88 millimeters) thick.
Our quality control system based on continuous improvement, our team of experienced professionals, and our internal production system allow for rapid turnaround on parts and prototypes with the highest standards of customer satisfaction. With quality assurance integrated throughout the production, we are able to deliver superior craftsmanship and on-time delivery.
Lee Metal Fabrication has two ENSIS Series Fiber Lasers. AMADA's 3kW ENSIS fiber laser technology utilizes a highly innovative resonator to automatically and precisely adjust the diameter of the laser beam. This unique feature enables continuous processing of thin-to-thick materials by a single machine with no lens change or additional setup required.
Mild Steel .032'' to 3/4''
Stainless Steel .032 to 1/2''
Aluminum .032 to 3/8''
Maximum Sheet Size 5' x 10'
Accuracy 0.0004''/20''
Both our fiber laser and laser tube capabilities allow us to process more parts and more variety for our customers.