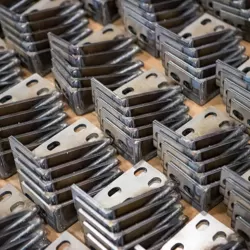 Lee Metal Fabrication's forming and rolling operations are part of a complete line of advanced metal manufacturing services that meet high industry standards and diverse requirements. Lee Metal Fabrication provides solutions for bending, folding, forming, notching, punching and shearing and cut to length services.
Our versatility, quality manufacturing, and customer focus is why our customers come back to us project after project. From concept to finished product, our expertise in design engineering, machining, fabrication, and assembly will ensure your project requirements are met on time and on budget.
Our well-equipped facility has the capabilities to bend, shear, notch, punch, saw, drill, angle, or plate roll, weld, braze, and plasma burn small, large and heavy components made from steels, aluminum, copper, and exotic metals. 
Fabrication Methods Performed
Plate Roll

SIHR 6/3 6' X 1/4 PLATE ROLL
Will Pre Bend 1/4'' Plate At Full Length And Roll 3/8'' Plate To Larger Diameters



Shearing & Notching

Edwards 120 Ton "Jaws V" Heavy Duty Machine
18 inch wide Flat Bar Shear, Angle Shear, Coper Notcher and a special built-in Rod Shear for solid square and round bar stock



Roll Bending

EXSEL 2000 PRO BENDER
Bending round tubing from 1" to 1.90"
Materials We Specialize In
Aluminum
Iron
Steel
Stainless steel
Copper
Magnesium
Carbon Steel
Brass
Fabrication methods
Bending
Shear
Notch
Punch
Sawing
Drilling
Angle Rolling
Plate Rolling
High Definition Plasma Burning
Welding
Brazing