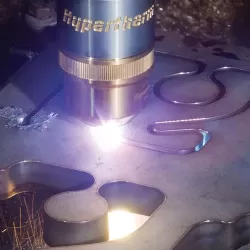 Lee Metal Fabrication's high definition plasma-cutting services are a reliable alternative to other traditional metal cutting services where accurate angles and precision cutting is crucial. Our plasma cutting units consistently produce high-quality, cut-in materials of varied thickness and length. Some of the benefits of CNC-controlled, plasma cutting include optimal cutting, guaranteed consistent performance, and high accuracy or precision cuts.
Highly accurate
Excellent edge finishes
Stainless steel, aluminum, copper and carbon steel
Superior cut quality and consistency
Efficient and cost-effective part production
Fast turnarounds
Compatible with any CAD/CAM/digital design files
High precision and perfect repeatability
Lee Metal Fabrication offers high def plasma cutting with capabilities of cutting up to 2" thick HRS plate. Customers will benefit from this precision cutting system with accurate and square parts. Rectangles, rings, discs, and special shapes are available as high-definition products through 2.0" (50.8mm). 
Superior Cut Quality and Consistency
Our HyPerformance® HPR400XD plasma system has been designed and built for maximum performance and productivity in x-y, bevel and robotic cutting operations. The versatile 400-amp rated system combines fast cutting speeds, rapid process cycling, quick changeovers and high reliability, and delivers the ultimate in HyPerformance mild steel cutting, plus aluminum capability and unmatched stainless steel cut quality.
HyPerformance plasma cuts fine-feature parts with superior quality and consistency
HyDefinition® technology aligns and focuses the plasma arc for more powerful precision cutting up to 80 mm (3.2")
New HDi™ technology delivers HyDefinition cut quality on thin stainless steel, with extremely sharp top edge quality, shiny surface finish, and superior angularity with reduced angle variation
Patented True Hole™ technology produces hole quality that is significantly better than anything previously achievable with plasma
High Definition Plasma Steel Cutting is suitable for many industries. Lee Metal Fabrication's high definition plasma cutting capabilities ensure tight tolerances and fast turnarounds for even your most complex part shapes for applications such as:
Agricultural
Automotive
Commercial Construction
Liquid Fertilizer
Marine
Medical
Petrochemical
Signage